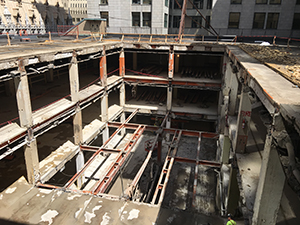 Macy's Building, Pittsburgh
Project duration: 1 year
Description:
We were asked to provide budget numbers for the clean out, demolition and saw cutting necessary to re-purpose a 14 story (approx 1,000,000 SF) department store in downtown Pittsburgh. The construction contract involved required being solely responsible for creating a double atrium in the core of the building, requiring concrete saw-cutting, structural steel removal, 20+ escalator demo/removal and 150+ new window opening in the building envelope.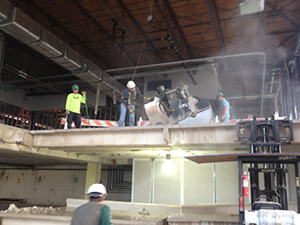 Sunoco Headquarters relocation
Project duration: 5 months
Description:
Sunoco and IMC construction chose Diplomat to perform the selective demolition, complete demolition and saw cutting operations in the 260,000SF relocation project at Ellis Preserve, Newtown Square, Pa. The demanding schedule and multiple scopes of work proved to be a challenge for all team members involved but did not stop progress. Diplomat was required to have certified safety personnel for confined space demolition, lead paint remediation and identifying suspect materials, fall protection/leading edge protection, boom lift operation, fork lift operation and hot work/torching/welding operations.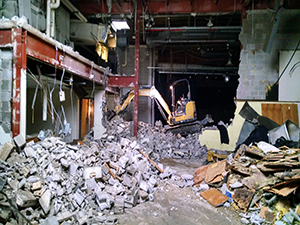 Bensalem High School
Project duration: 3 years, 6 phases
Description:
The multi-year project had a very demanding phased schedule capable only by a contractor with a variety of labor resources with carpentry, concrete, masonry, demolition, saw cutting and machine operation skills. All personnel were required to have state police back ground and child abuse clearances.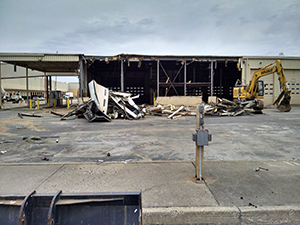 Essident distribution center, Oaks PA.
Project duration: 6 months
Description:
When Essident looked to relocate their warehouse and distribution center, Diplomat was the clear choice for the wide array of demolition and saw cutting services required to update the 450,000SF precast tilt-up panel structure. The project included interior office demo, roof tear off, saw cutting for new over head door openings, MEP and sprinkler pipe demo, 1000+ LF of plumbing trenching and site/building demolition.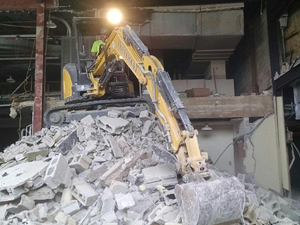 Cedarbrook Middle School
Project duration: 4 months
Description:
After years of water related issues and mold concerns, the 150,000 SF school was slated for LEED demolition leaving the steel super structure and concrete slabs to make way for building renovations and upgrades Cheltenham school district. With a fleet of excavators, skid steers, man lifts, forklifts, and human capital, a precise and perfectly executed demolition plan was essential to protect the building elements scheduled to remain while maintaining LEED project specifications for C&D materials hauled off site.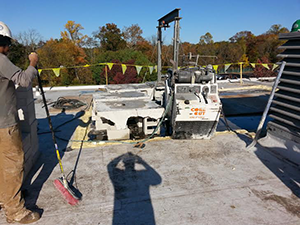 VAMC Philadelphia Elevator
Project duration: 2 years
Description:
Saw cutting an elevated concrete slab and safely lowering for removal is extremely technical; performing the work in a fully operational hospital adds a level of difficulty only professionals should attempt.  Diplomat was contracted to perform demolition and concrete saw cutting services as required to install a new 8 floor elevator in the Philadelphia VAMC. Work required 100% electric powered equipment, including slab saws and rigging equipment, while maintaining dustless procedures and ICRA barriers since work was directly next to patient rooms, research labs and operating rooms.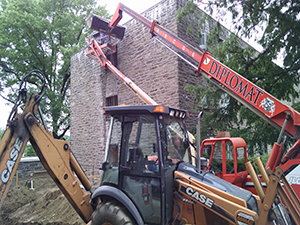 Arcadia University Elevator
Project duration: 2 months
Description:
When Arcadia University made three of Wissahickon schist student housing buildings ADA compliant by adding elevators, Diplomat was asked to perform the demo, saw cutting and debris removal. The 54' vertical saw cuts were allowed no more than a .25" tolerance and debris removal proved equally challenging. Despite the challenging scope and schedule, Diplomat finished ahead of schedule and helped kick off the project on a positive note.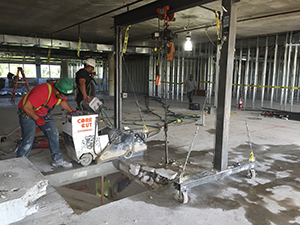 E-Money
Project duration: 2 weeks
Description:
Diplomat's estimating and project management teams spent hours devising a plan to carefully remove the elevated hollow panel, precast sections on the fourth floor of a class-A office building.  Additional consideration was required as each drop of water needed to be reclaimed since water could easily travel to finished spaces on floors 1-3 via the hollow panel's floor slabs.  Water was captured using an elaborate "Umbrella system" and concrete was removed from the fourth floor with a CAT 12,000 LB extended reach forklift.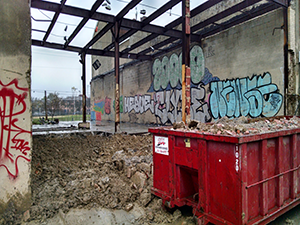 AJAX Building
Project duration: 1.5 years
Description:
When Live Nation's Filmore came to Philadelphia, Diplomat was the developer's only choice to tackle the daunting demolition. The building was vacant for years creating countless safety concerns for workers that needed constant monitoring by experienced demolition professionals. In addition, specific architectural details and building materials needed to remain requiring careful deconstruction and precision.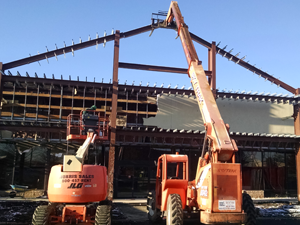 Hoyt Theatre
Project duration: 5 months
Description:
The 1500 person capacity stadium style movie theatre was repurposed in 2012.  Diplomat was awarded the contract because we offered the owner a complete package to turn the building into vanilla box including permitting, MEP safe off's, concrete restoration, brick and block toothing, demolition and saw cutting.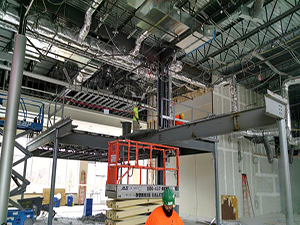 Shire Pharmaceuticals
Project duration: 3 months
Description:
Diplomat has done several projects for Shire pharmaceuticals including locations in Tredyffrin and Exton. Shire and Diplomat work well together because both organizations put safety as the number 1 priority. In addition, Diplomat employs a green demolition technique that strives to divert 90+% of all demolition materials from a landfill.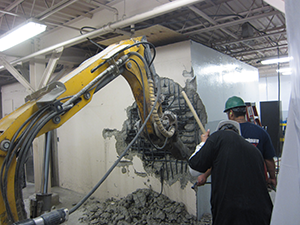 Johnson Matthey
Project duration: 1 month
Description:
The vault that stored close $100mm worth of inventory per week had a triple rebar matt encased in 14" thick concrete. Diplomat used the BROKK180 demolition robot to safely and systematically remove the structure. Demo operations were performed around the clock for 2 consecutive weekends while the facility was shut down.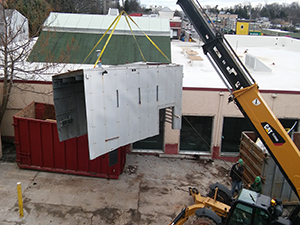 St Joseph Villa
Project duration: 1 week
Description:
Diplomat worked directly for the HVAC contractor to remove mechanical units and associated items so new equipment could be installed at the 150 unit convent. Our field team completed the project well ahead of schedule by using a 50 ton crane to lift the units off the 7 story building. On the other side, the office team supplied site safety plans, hazard analysis, crane and rigging plans, suspect material identification plans, and roof protection plans.